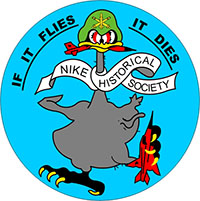 The Nike Historical Society is a non-profit organization founded to preserve for history the critical role Nike Missile Systems played in the air defense of our nation and other nations throughout the free world. The primary focus of the Society is to assist organizations by providing technical assistance and support for restoration projects and/or historical legends. The Society also insures that accurate and proper interpretations of the Nike Missile System are adhered to. In addition, the Society is available, through the site historian, to answer questions pertaining to the missile system.
Though the society was conceived and implemented by Nike Veterans, anyone interested in furthering its aims may become a member. The Nike Historical Society is not affiliated with any missile site featured on our web pages.
All material sent to the Society, to include photos, documents, manuals, mementos, etc. become the property of the Nike Historical Society unless specified otherwise, in writing, by the sender. The Society does not guarantee that any material will be used on its website. Material, at the Society's discretion, may be shared with other historical preservation efforts. Articles will not be returned to the sender unless otherwise specified in writing.
The Nike Historical Society meets every three months. Please refer to the bottom of the posted minutes for the planned date and time of the upcoming meeting. Confirm this with a board member.
You don't have to be a member of the Society to attend a meeting. If anyone would like to speak, or present a topic, please contact our Historian at historian@nikemissile.org at least two full weeks prior to the meeting date. Kindly inform the Historian of what you would like to speak about and/or present. You will be placed on the agenda. (The Nike Historical Society reserves the right to review and grant or not grant permission for an individual(s) to make a presentation and/or speak at our meeting.)