History of LA-88, Chatsworth, California
Based on presentations by the Chatsworth Historical Society.
Edited October 2022 by the Nike Historical Society.
Background: The Cold War
The Cold War, between the Communist World (the Soviet Union and its allies) and the Western World (the United States and its allies), lasted from 1946 to 1991. The Berlin Wall fell in 1989. During this period of political, military and economic conflict, various strategies were undertaken by the United States to defend against a nuclear attack delivered by aircraft.
Nike Missile bases were the last line of defense in a chain that included sea and land based aircraft. Nike sites were initially armed in 1953 with Nike Ajax missiles. Ajax could only be armed with conventional explosives and were developed to stop enemy aircraft. Ajax missiles were replaced by Nike Hercules in 1958. Hercules could be armed with conventional or nuclear warheads. Nuclear warheads made the Nike system capable of stopping a squadron of enemy aircraft with a single Hercules missile.
---
Nike Missile Bases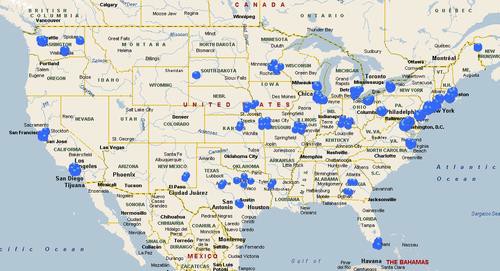 ---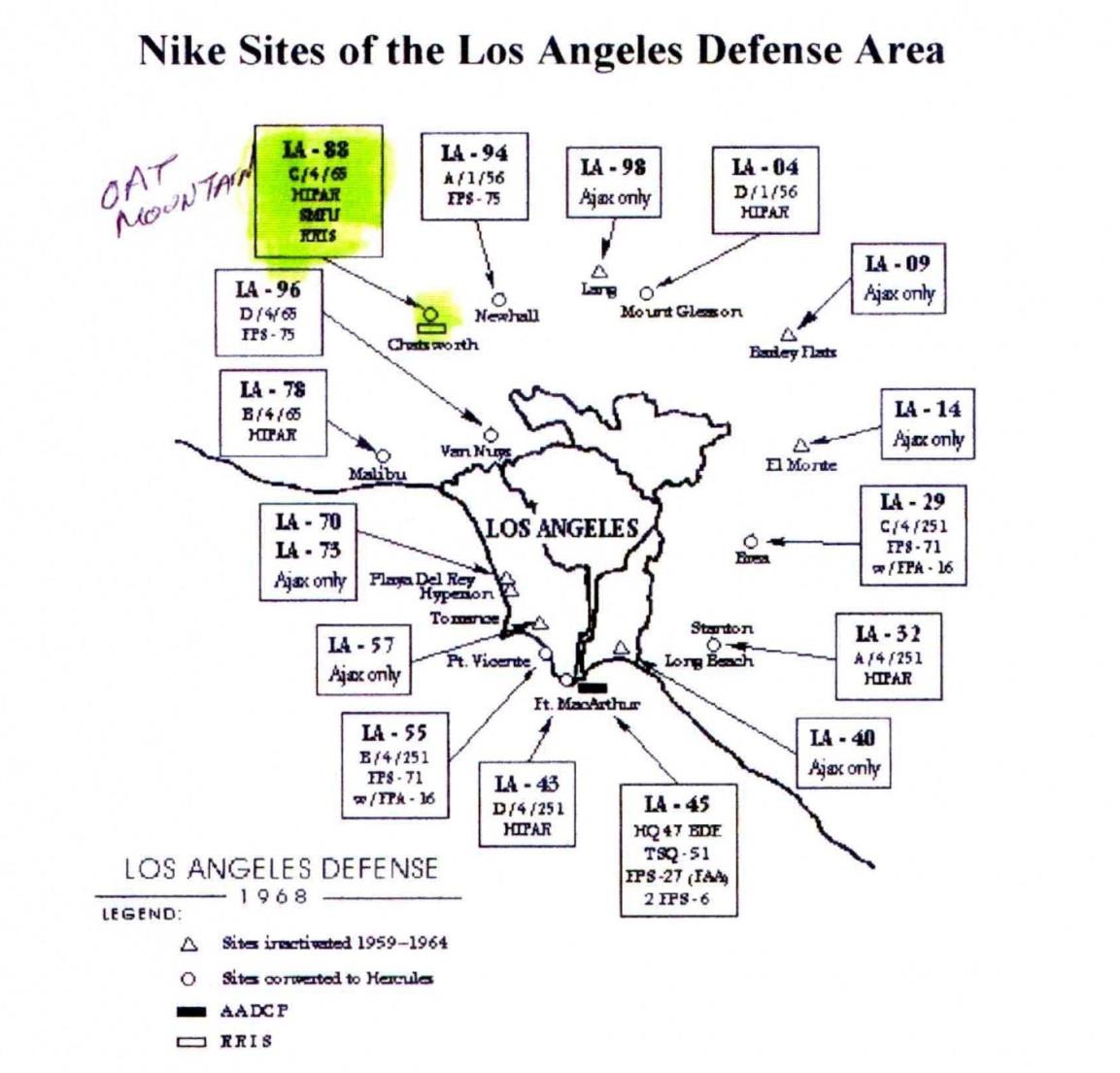 ---
Nike Missile Site LA-88, Chatsworth
Oat Mountain, the location of Site LA-88, towers over the San Fernando Valley and provides visibility in all four directions, including far out into the Pacific Ocean.
It was the last of the scheduled 16 Los Angeles Nike sites to be completed due to the rugged terrain and only one usable road through Browns Canyon. Construction difficulties leveling a mountain peak and also digging into the ground for the three missile magazines caused delays.
The site was completed and became operational on August 26, 1956.
It was decommissioned in 1974 and was one of the last sites defending the Los Angeles area.
Below are 2018 Google Earth 3D images of the three LA-88 Sites (Administration, Launcher, and Integrated Fire Control).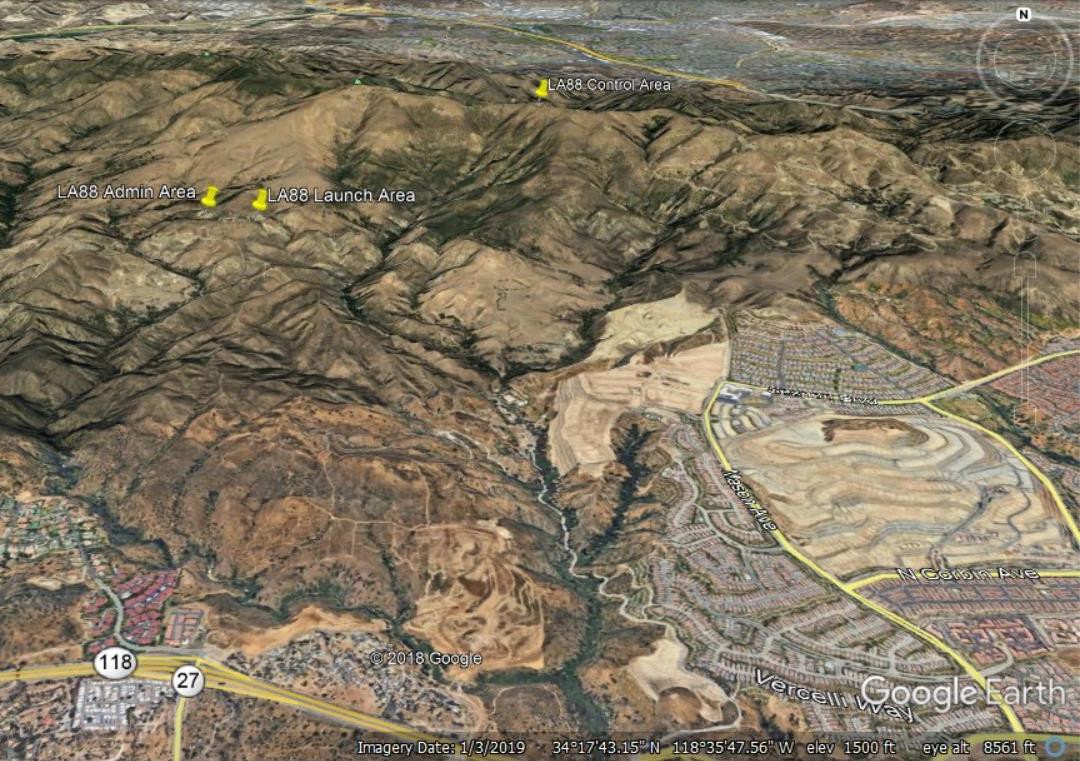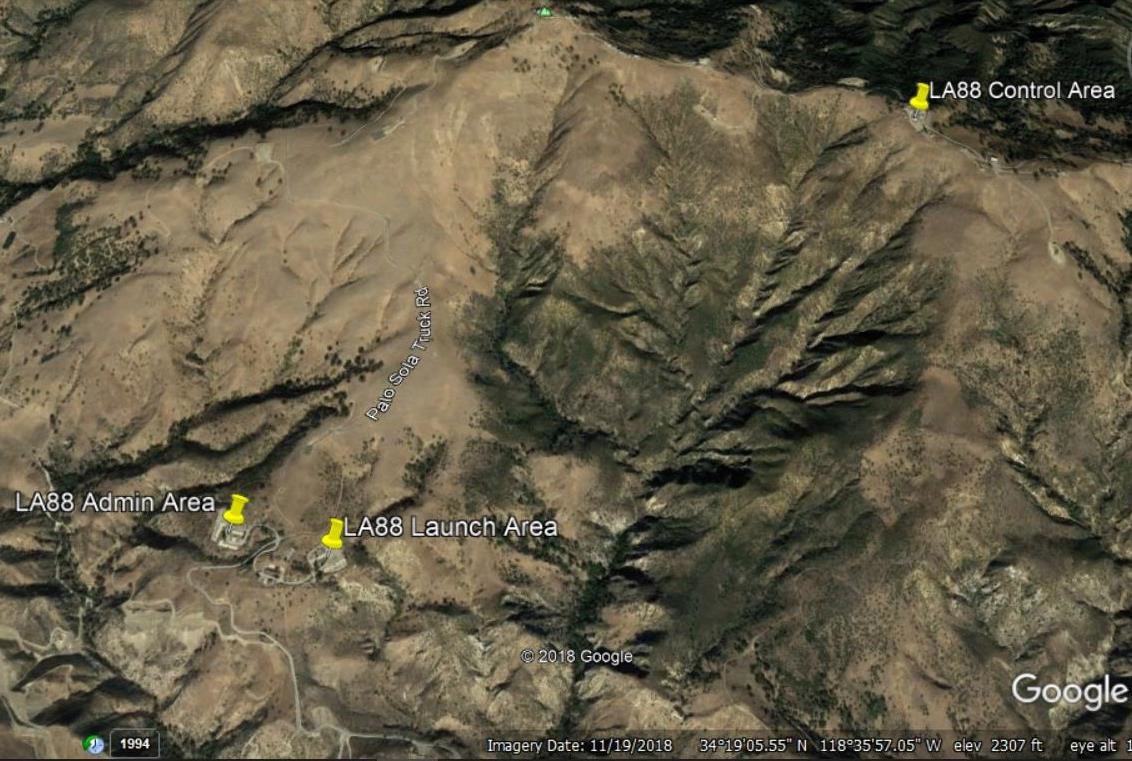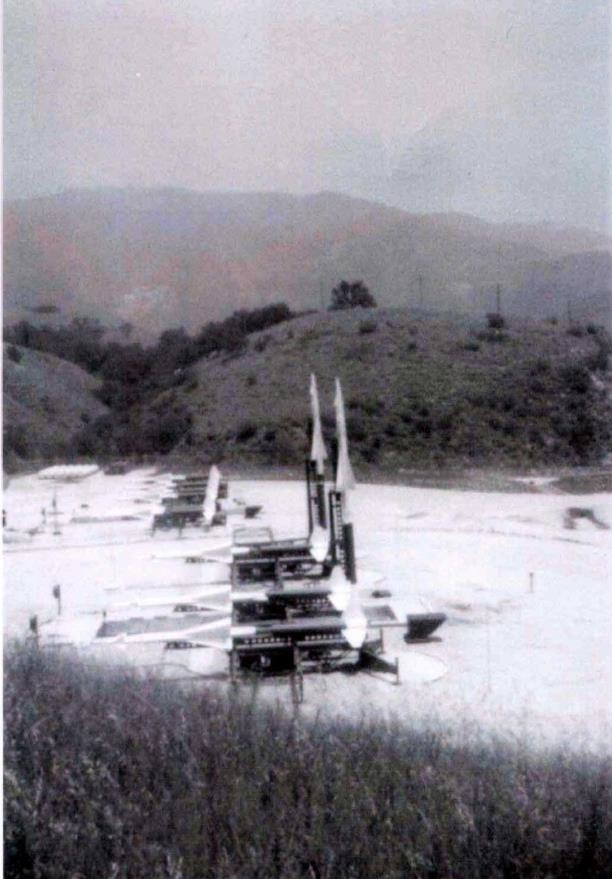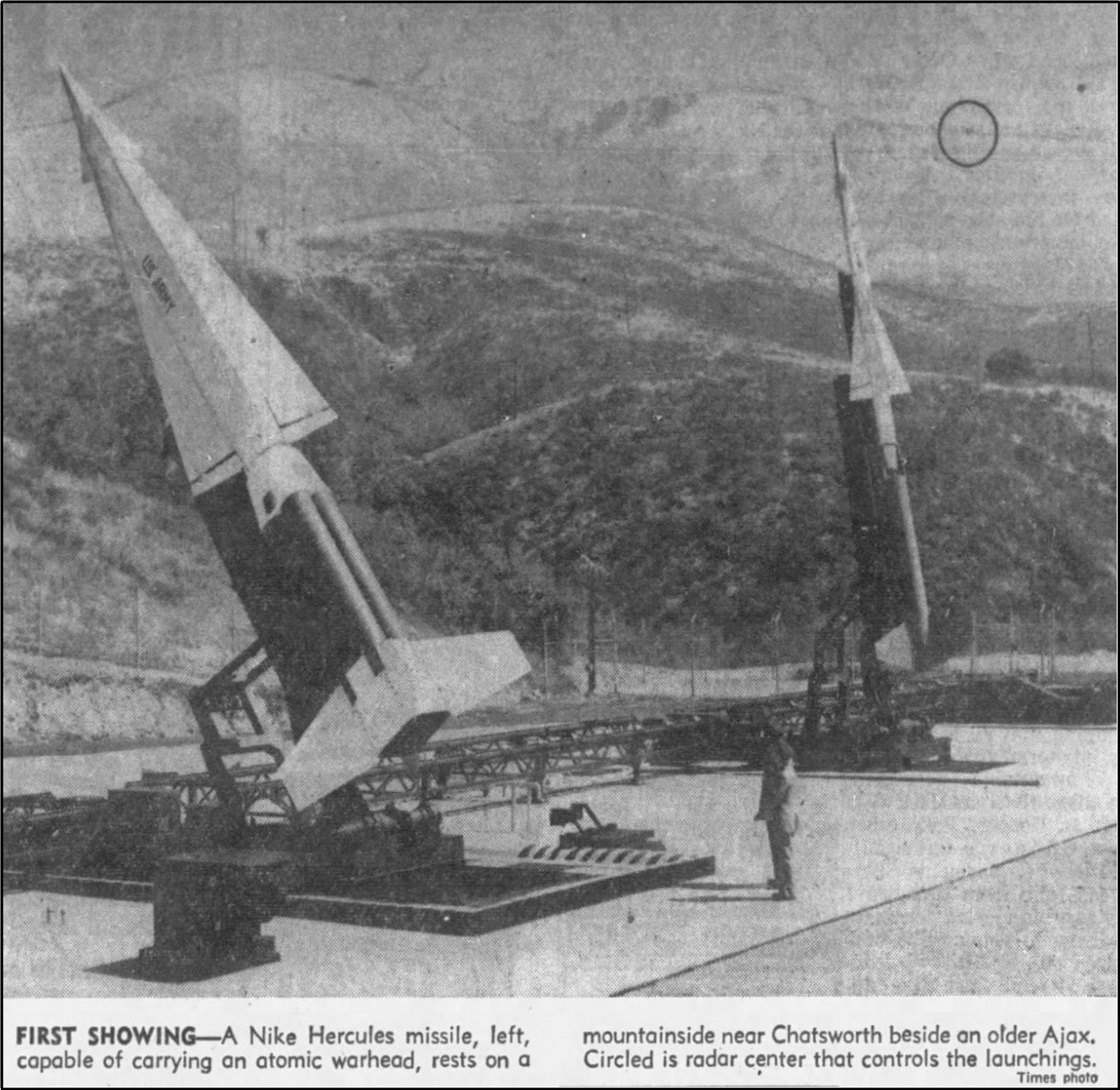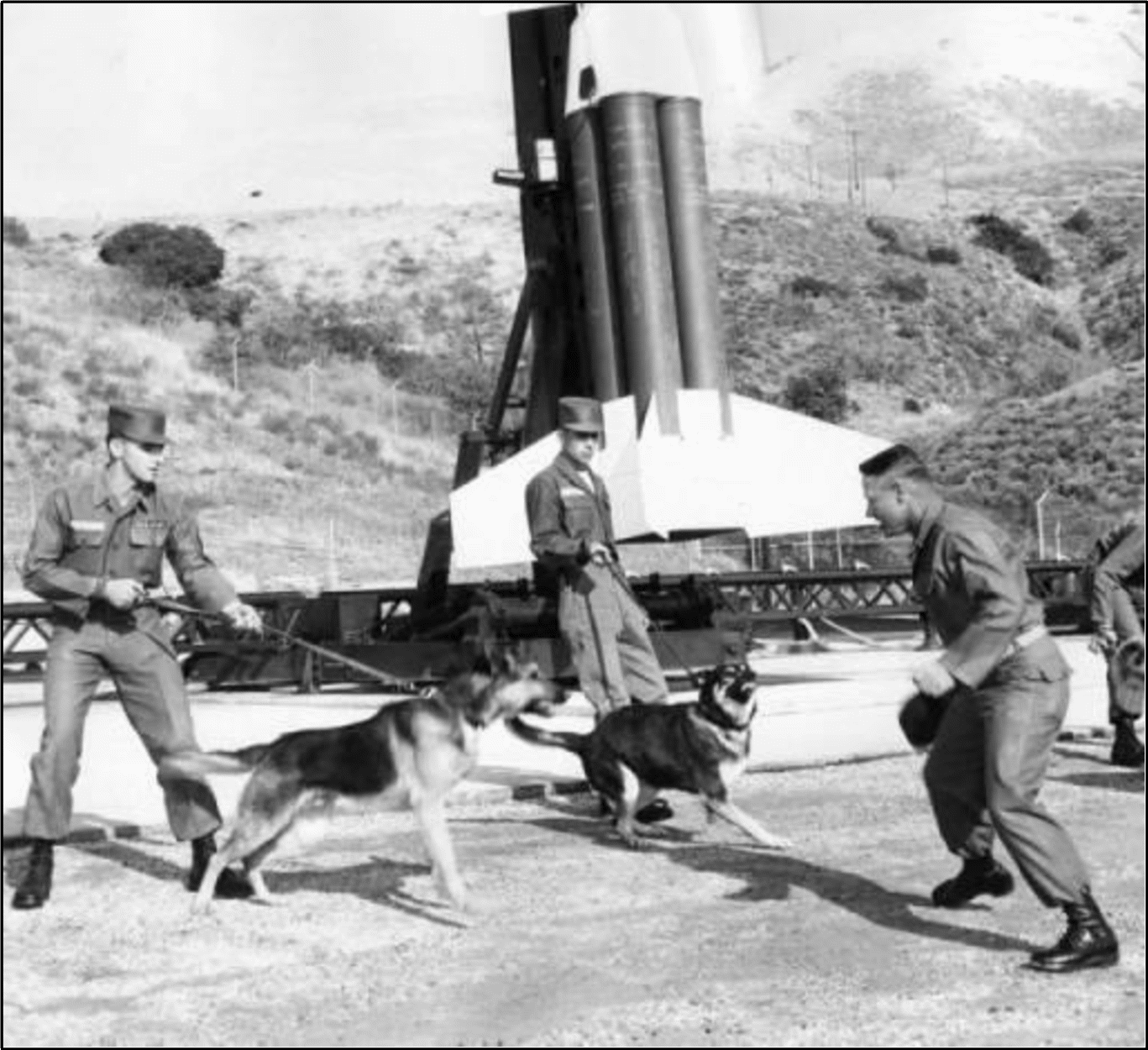 ---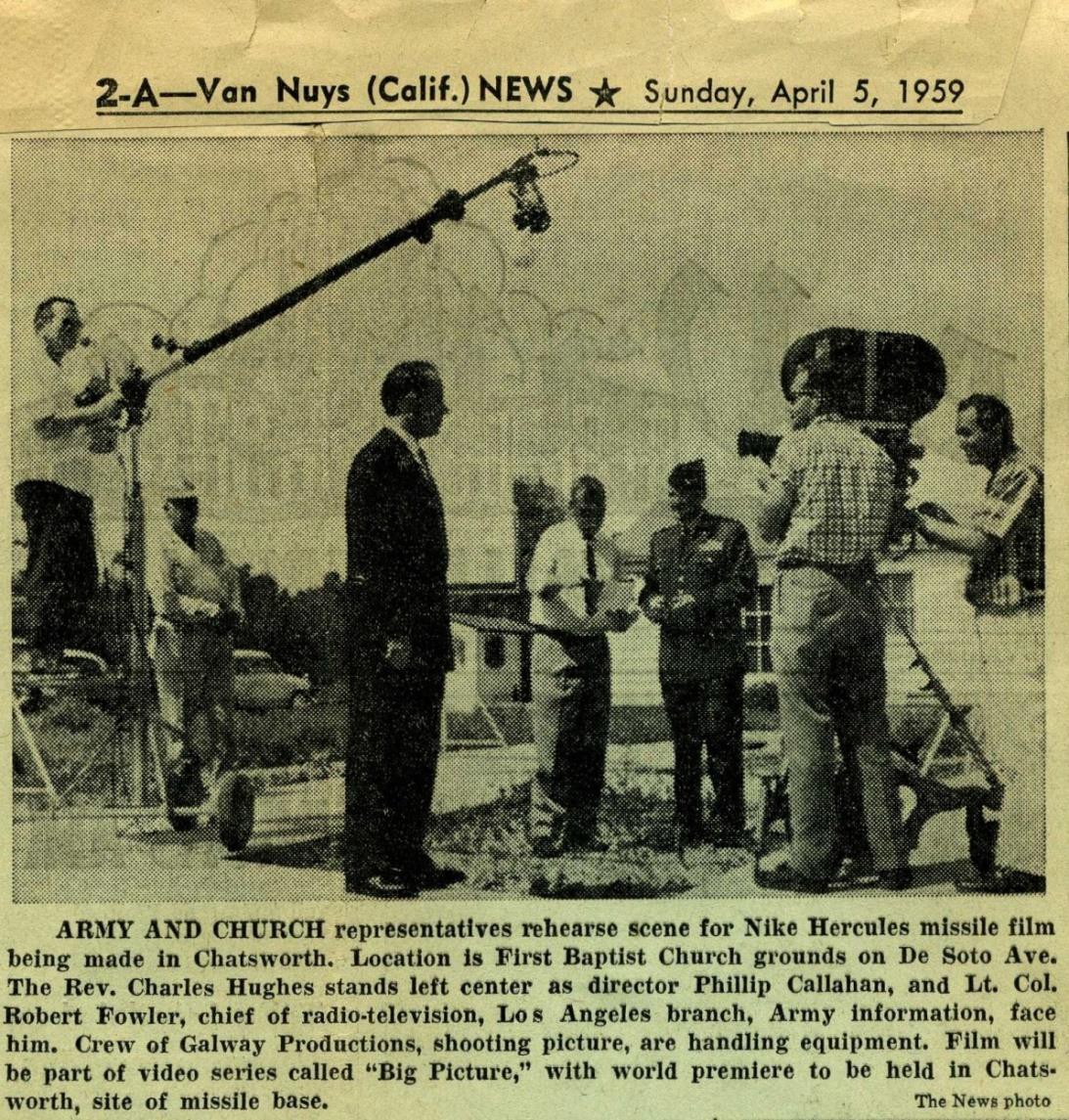 Lt Col. Robert Fowler with Rev. Charles Hughes and church members Mr. & Mrs. John S. Whitmer shoot a scene for the Nike Hercules Missile Film at the newly completed First Baptist Church on De Soto.
The film will be part of a video series called

Big Picture

with a world premiere to be held in Chatsworth, site of the missile base.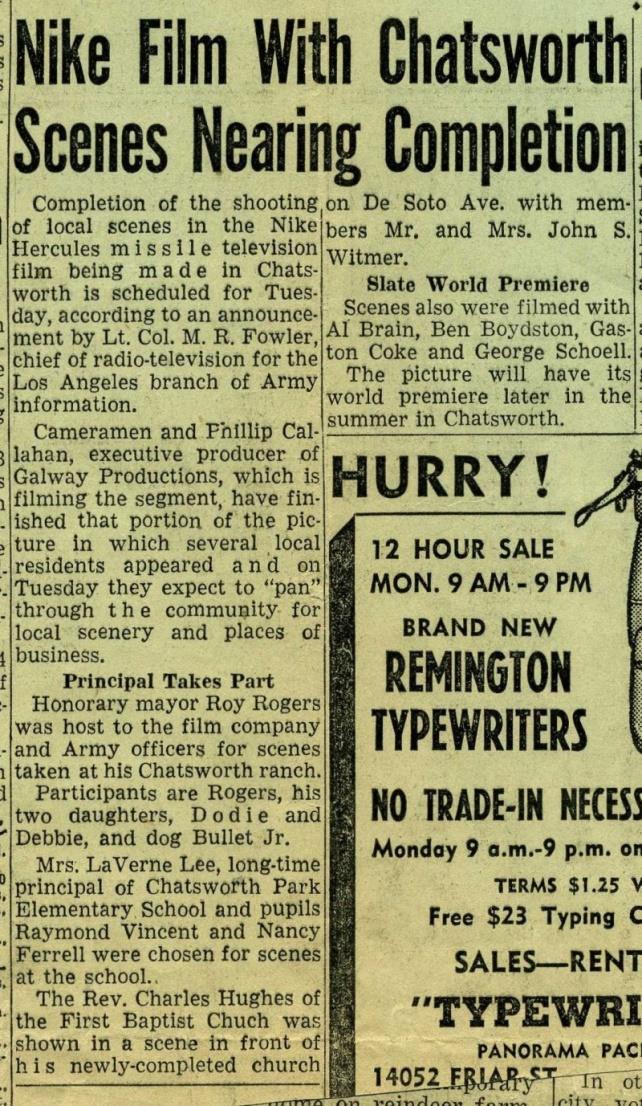 Honorary Mayor Roy Rogers was host to the film company and Army officers for scenes taken at his Chatsworth ranch. Participants were Rogers, his daughters Dodie and Debbie, and dog Bullet Jr.
Mrs. LaVerne Lee, long-time principal of Chatsworth Park Elementary School and pupils Raymond Vincent and Nancy Ferrell were chosen for scenes at the school.
Scenes also were filmed with Al Brain, Ben Boydsten, Gaston Coke and George Schoell.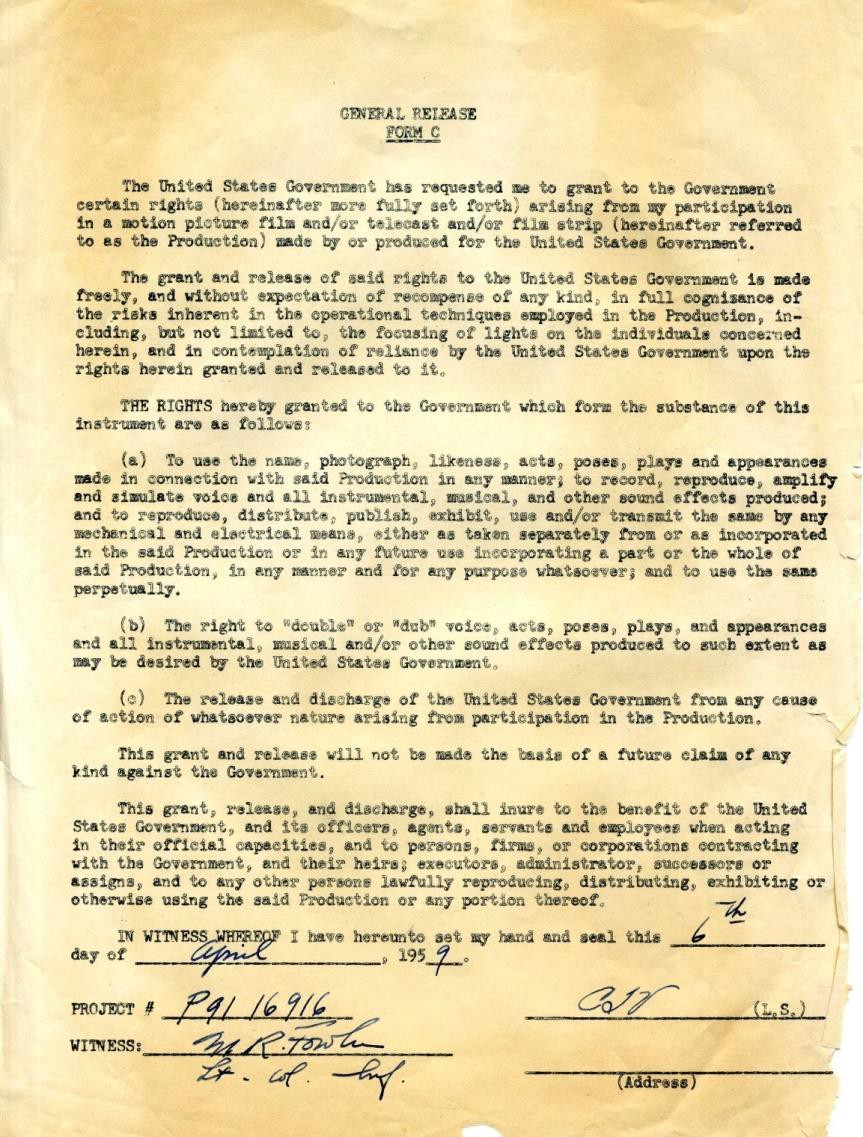 ---

The United States Army Pictorial Service film Big Picture, Episode 439, Nike Hercules- A Reality, partly filmed in Chatsworth and at the Chatsworth Nike site, is available on YouTube. The film includes interviews and scenes from LA-88. It also includes quotes from Ben Boydsten, past Chamber president; LaVerne Lee, the Chatsworth Park Elementary School Principal; Al Brain, owner of the 5¢ & 10¢ and the Horn Inn; Reverend Charles Hughes and Honorary Mayor Roy Rogers.
The film's 1959 release sheet reads:
More documentary than drama is this episode which tells a straightforward story about Battery C and its Hercules' site in Chatsworth, California. Here is a clear-cut explanation of the operational efficiency of the Nike Hercules missile which is geared for the protection of the American continent. As explained in this film, Hercules is the nation's latest answer to any threatened attack and the best answer to any question about the Army's readiness. It's America's only missile system which has become an operational reality. Chatsworth, like so many suburban communities in the Los Angeles area, actually falls within the outer limits of the City and enjoys many of the services of this great urban center. In Chatsworth one will find most of the things which ensure its growth as a modern, progressive town. One will find something else--a small patch of sand and concrete high in the hills above the town, where men of the Army Air Defense Command work day and night to make sure that Chatsworth continues to grow in peace and freedom.
While aiming for objectivity throughout, the gratitude of the townspeople to the missile men of the nearby Hercules' site is best expressed by Roy Rogers, TV cowboy star and Honorary Mayor of Chatsworth when he says, "I can only express what I think most of the town feels -- our thanks."
---
Growing Up n the 1950s and '60s with the Threat of a Nuclear Attack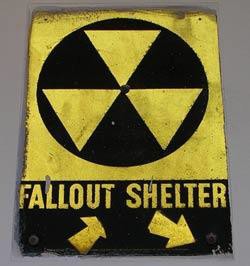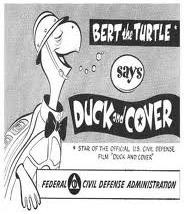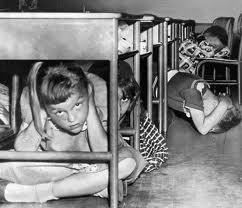 Duck and Cover Drills were practiced at schools across the nation to help students survive nuclear explosions. They continued past the 60s as standard practice for earthquake and other disaster protection procedures.
Fallout Shelters were enclosed spaces specially designed to protect occupants from radioactive debris or fallout from nuclear explosions. Many such shelters were constructed as civil defense measures during the Cold War. They were built underground or within existing basements of homes.
---
Duck and Cover

video (1951, 9 minutes)

The film Duck and Cover was funded by the US Federal Civil Defense Administration. Released in January 1952, it taught kids what to do in the event of a nuclear explosion. Duck and Cover is available online at
Chatsworthhistory.com>Digital Archives>Presentations>Nike Missile Base History
or on YouTube at the ChatswortHistory1 channel.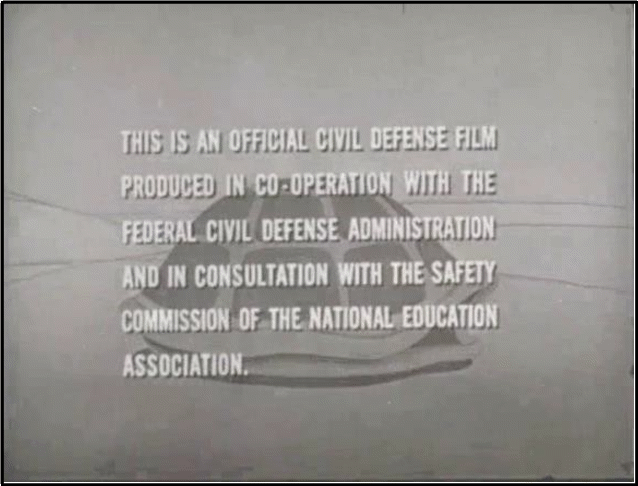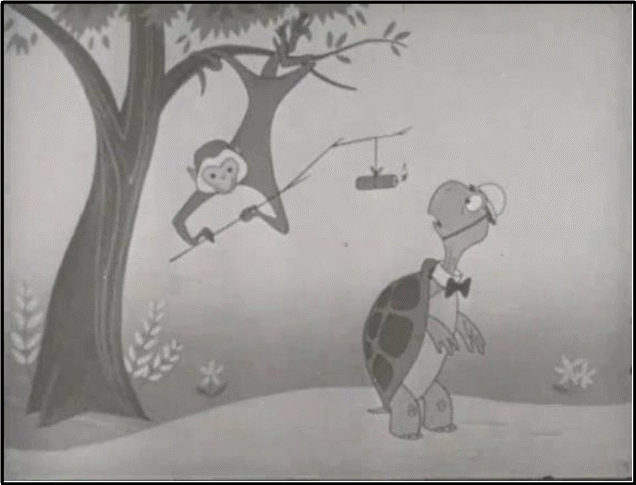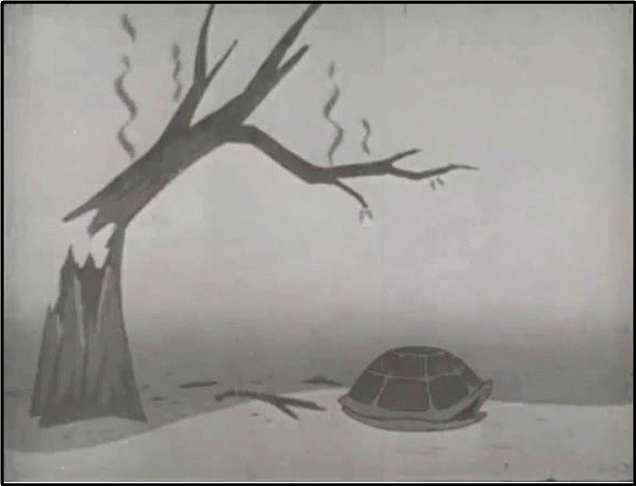 ---
A description of LA-88 from crewman Greg Brown, 1968-1971
Greg recently reached out [March 2022?] to the Chatsworth Historical Society, as he noticed that we had posted an article on LA-88 on our website.
Greg was stationed at LA-88 from 1968 to 1971 as a Nike Hercules Fire Control Crewman, and shared with us what life was like at the site. LA-88 was part of our Air Defense system for the Los Angeles area from 1956-1974.
Today Greg lives in the SF Bay area and interprets, along with many other Nike Missile Veterans from the Bay Area, for the National Park Service Historic Nike Site SF-88, at the Marin Headlands in the Golden Gate National Recreation Area.
Excerpts from Greg Brown's Nike Biography
On arrival in October 1968, there were no open Nike crewmen positions, so I worked as a dining room orderly and a cook. When positions became available, I worked as an elevation tracking radar operator, acquisition radar operator and generator operator. During that time, the site experienced floods in '69, The Clampitt fire, that burned completely over our Nike Site, on Sept 25, 1970, and the Sylmar earthquake in '71.
There were approximately 100 individual soldiers assigned to a Nike site. There were two main classifications, Radar Crewman, MOS 16C, referred to as a "Scope Dope" or if you were a Launcher Crewman, you were a "Pit Rat" MOS 16B. There are three main areas to a Nike Missile Site.

Launcher Area, which is the most secure, because the missiles were stored there. That area had roving armed guards with sentry dogs.
IFC (Integrated Fire Control Area), where the Search and Tracking Radars were, usually on top of a hill.
Administration area, which included the barracks (living quarters), mess hall, supply room, administrative offices, and telephone switchboard operator room.

The daily routine was to do maintenance on the system, either radars or missiles, depending on where you worked. Other duties were guard duty, which was done around the clock, kitchen police (KP), mowing weeds, cleaning, painting, and other duties as required. The Army's job was to keep you busy.
There were regular "drills" called ORE (Organizational Readiness Evaluation) that were simulated nuclear attacks and drills with the Air Force called RBS (Radar Bomber Scores) where Air Force aircraft attempted to penetrate our air defense area. They would try to jam our radars but we usually prevailed.
In this type of warfare, there is a lot of electronic jamming known as ECM (Electronic Countermeasures).
We were always testing our systems to be better than the Soviets.
Although we were Army, we were part of Air Force NORAD, (North American Aerospace Defense Command), Headquartered at Cheyenne Mountain, Colorado. Then the regional Air Force SAGE (Semi Automatic Ground Environment) Headquarters at Norton AFB, then the Army Air Defense Command Post (ADDCAP) at Fort Mac Arthur. All of the above listed locations were part of the NORAD computerized surveillance network that watched the skies and tracked aircraft in our air space. The network consisted of the DEW line radar rings across the Arctic Circle and Canada, along with Air Force ground based Radar Stations and radar planes along with Navy radar picket ships.
There were eight Nike Hercules sites in the LA defense area during '68-'71. Four were regular Army, four were National Guard. There were always 25 per cent of the sites (i.e. 2 sites) that were on "Hot Battery" status, which is a condition of all equipment being 100% operational with all personnel in place ready to fire a missile in 15 minutes.
The missiles were on the launcher ready to fire, it was 24 Hour duty and you could not leave the site. Hot status could last from 1 to 2 weeks at a time. If another site was the Hot Battery and their equipment failed, your Battery would be called to become the Hot Battery. You had two hours to do so.
The security concerns at the time were domestic terrorists and Viet Nam war protesters. Groups like the Weather Underground were attacking or sabotaging military installations.
We also had to be on guard for Army security personnel who made attempts to breach our security.
Our radars had a 150-mile view of Southern California. We also had a video feed from an Air Force Radar at Mt. Laguna that was near the town of Julian, in northern San Diego County. That radar had a 200-mile range, so we could see past Catalina, the Mexican Border, and up to Santa Barbara.
Our job was to protect the military installations, and military and aerospace manufacturing in Southern California from airborne attacks. Our missile battery was near the Rocketdyne facility in Chatsworth.
I was standing in the ready room when the Sylmar quake hit on February 9, 1971. I saw waves go across the floor. We checked to see if any missiles had fallen off of their launchers in the magazine. All 18 missiles were intact.
The most exciting time on the site was being on the "SNAP" (Short Notice Annual Practice) Crew. I was picked for a position as a generator operator on the launcher crew for the 1971 trip to Mc Gregor Range, Ft. Bliss, Texas, to fire several live missiles at a live drone and have our performance evaluated.
All Nike sites were required to do a yearly "live fire" or SNAP, to show their proficiency and be evaluated by the Army Air Defense Command. The ideal score was 100%. This also showed the Russians that we knew how to use our missile system.
Those of us who served in the Army Air Defense Command considered ourselves fortunate to be distant from the war in Viet Nam. Many of our peers had been there and none wanted to return.
The Nike Missile System was in service in Germany and throughout Europe, Greenland, Korea, Okinawa, Taiwan and other countries, including 40 cities in the continental U.S., Alaska and Hawaii. It was not used in Viet Nam, as its intended targets were high altitude Russian bombers.
By 1974 most of the Nike Hercules Sites were closed due to the SALT (Strategic Arms Limitation Treaty) with Russia, and obsolescence because it had become more likely that nuclear bombs would be delivered by ICBMs rather than aircraft. Sites in Alaska and Florida remained in service until 1989. NATO allies Taiwan and Italy kept their systems until 2003 and 2006. The successor to the Nike Hercules is the Patriot Missile system.
---
The status of Nike Missile Base LA-88 today
This 13 minute YouTube video was made in 2017: Inside the Abandoned Nike Missile Site LA-88L. Snapshots from the video are below.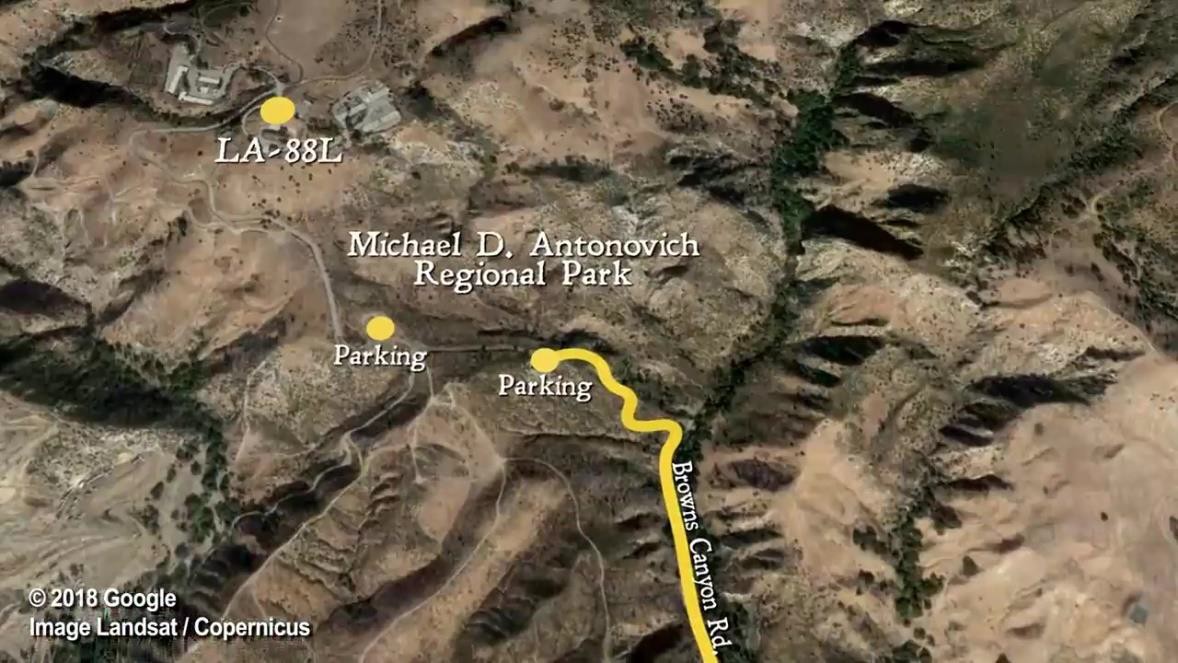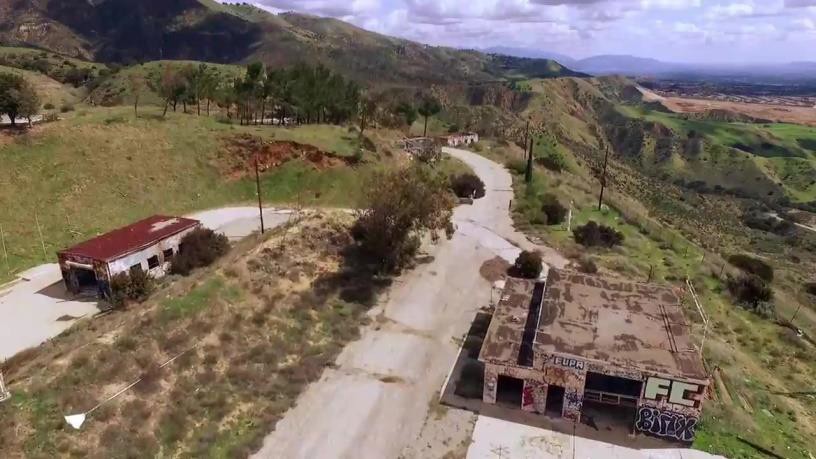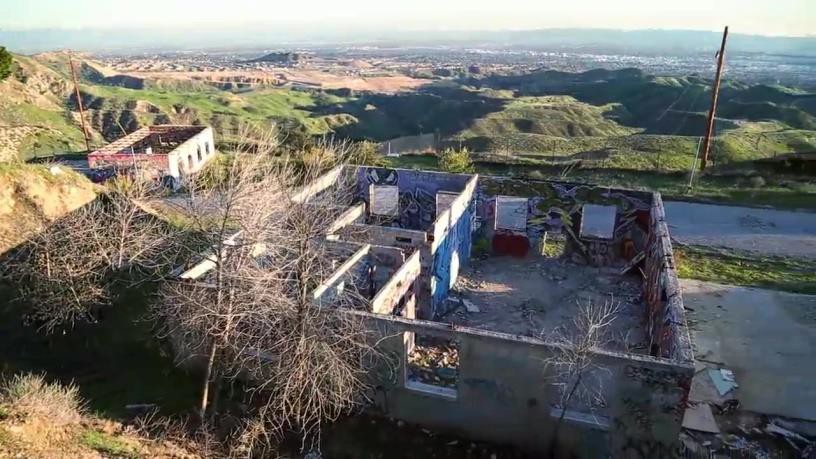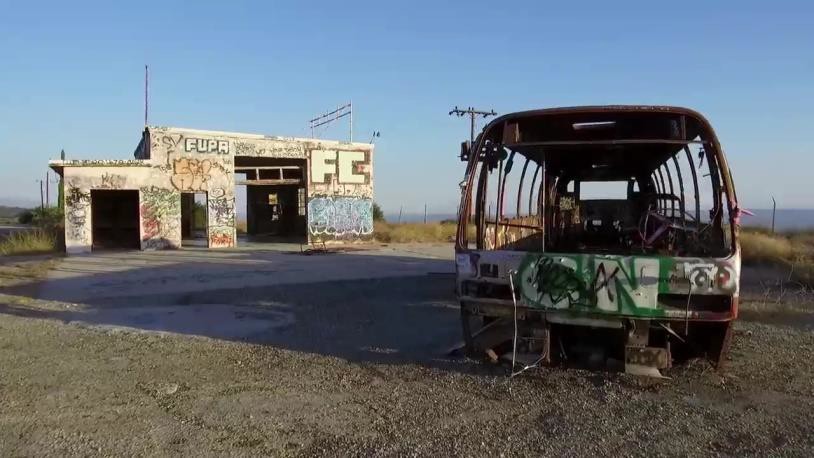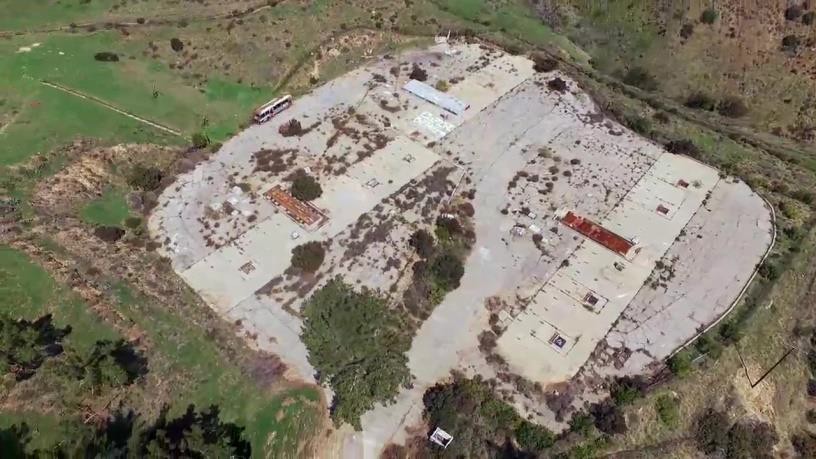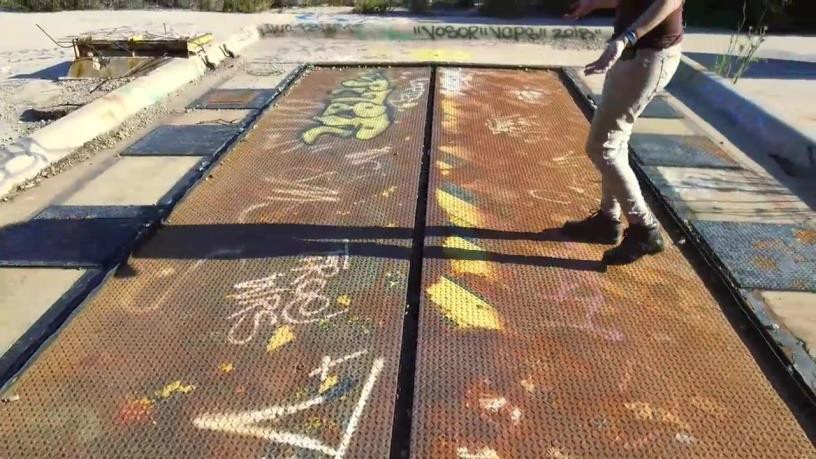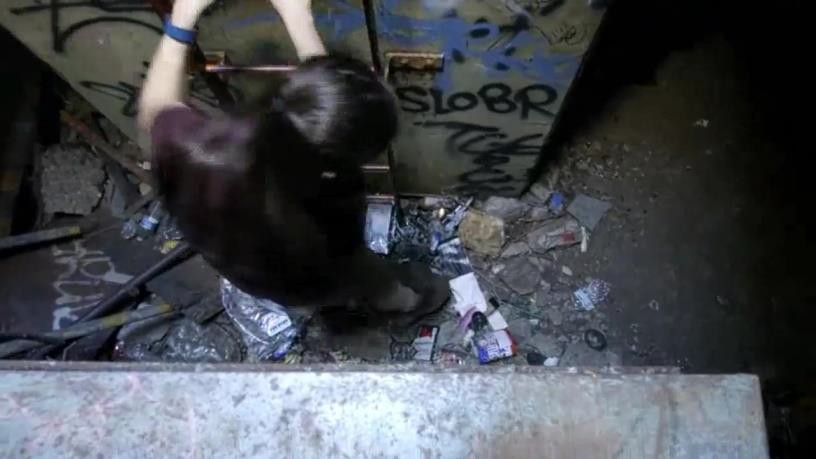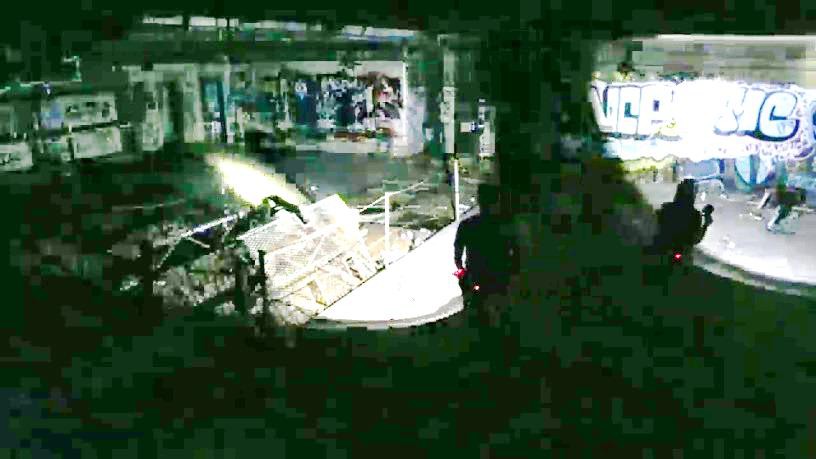 ---
Lassie Ep241 "The Patriot" season 7, episode 22
Filmed at LA-88 Chatsworth, air date February 12, 1961, 21 minutes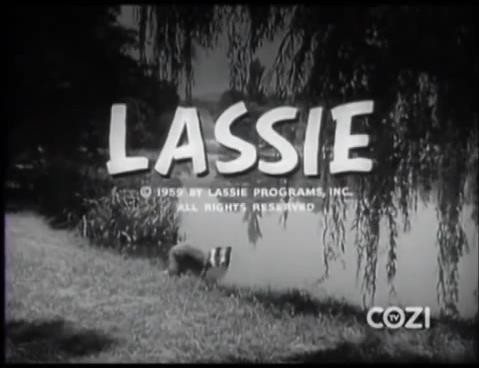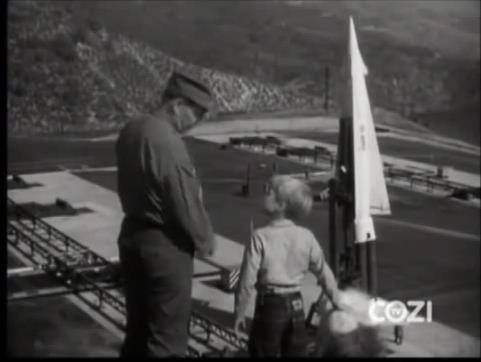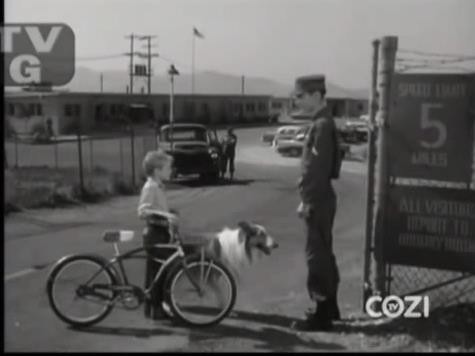 ---
Sources and Acknowledgements
This web page is based on a presentation first shown in November 2011 by the Chatsworth Historical Society. It was created by Ann and Ray Vincent and revised November 2019 and again in March 2022. In addition to the history of Nike Missile Base LA-88 on Oat Mountain, Chatsworth, California, it featured two videos
The Chatsworth Historical Society version of this presentation is available for viewing and download at ChatsworthHistory.com>Digital Archives>Presentations.
The

Lassie

episode mentioned in this presentation is available on YouTube from

ChatsworthHistory1

YouTube video Inside the Abandoned Nike Missile Site LA-88L (2017)
Thanks to the United States National Archives and Records Administration for information about

Big Picture

, Episode 439, Nike Hercules- A Reality
Thanks to Greg Brown, Nike Hercules Crewman at LA-88, Chatsworth, California 1968-1971, for his 2019 contributions of historical articles and information from the era and his August 2019 Biography of his four years at LA-88. Thanks also to Greg for telling us about the

Lassie

TV episode (Episode 241, 1961, 21 minutes) that was partly filmed at LA-88.
LAPL Valley News collection
---
MORE ABOUT LA-88