The Nike Historical Society, a 501(c)(3) tax-exempt organization, was founded to preserve in history the critical role Nike Missile Systems played in the air defense of our nation and other nations throughout the free world. The primary focus of the Society is to provide technical assistance and support to organizations for restoration projects and/or historical legends. The Society also insures that accurate and proper interpretations of the Nike Missile System are adhered to. In addition, the Society, through the site historian, is available to answer questions pertaining to the Nike system.
All profits that the Nike Historical Society makes from sales through the online store will be spent to further the goals (stated above) of the Society.
To see more, use these links or scroll down
Pen and Ink Prints Lapel Pin Nike Historical Society Memberships Nike Historical Society sticker How to Buy
---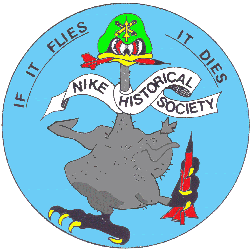 Take a part in saving history.
BECOME A MEMBER!
The Nike Historical Society is a group of Nike veterans and enthusiasts who are striving to keep the memory of the Nike program alive. Our objective is to support the restoration of Nike sites throughout the United States, to insure that interpretation of these sites is accurate, and to assist with technical information. In addition, we are here to answer questions about the Nike missile system and the role it played in the defense of our nation and our allies during the Cold War.
Though the society was conceived and implemented by Nike Veterans, anyone interested in furthering its aims may become a member.
New memberships are $25 for the first year. All renewing memberships are $20 per year. The additional $5 for new members pays for the societies expense for shipping items to new members. Membership fees, except the additional $5 for new members, are tax deductible. You are not limited to a one year membership, whether you are a new member or are renewing. You can sign up or renew for as many years as you want. The amount is $20 per year. The society also offers a lifetime membership for $250.
Thank You, BLAZING SKIES!!!!!
WHEN YOU JOIN YOU GET
---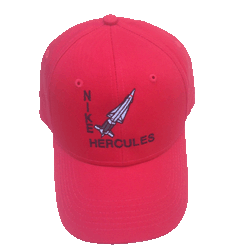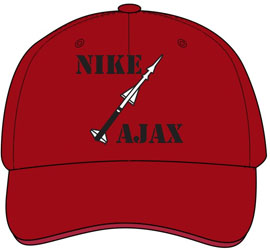 Ajax and Hercules Missile Hats
Wear one of these distinctive Nike missile hats, a great way for Nike Missilemen to honor their service. Great also for historians and others with an interest in the Nike system. These bold red hats are sure to get a second look. Designed for the Nike Historical Society by Al Kellogg, these Nike missile hats sell at $19.95 each plus a shipping and handling charge of $7.50 per order.
---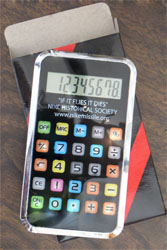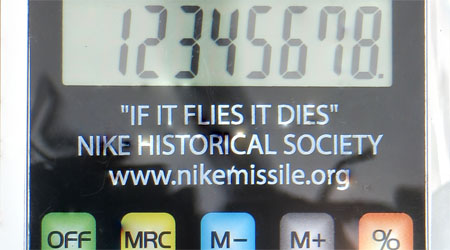 Real working POCKET CALCULATOR!
Our pocket calculator
is as accurate as a Nike missile
won't interrupt you with phone calls
is, in fact, completely silent
has a colorful, unlighted keyboard
does not, in fact, glow in the dark
is easier to operate than a rotary dial phone
does not connect to Facebook or Twitter
comes in a colorful shiny cardboard box
will remind you of our web site address

Price $10.00
---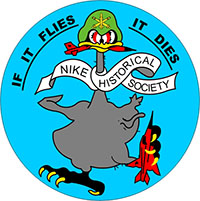 NIKE Historical Society Sticker
We send a 4 inch Nike Historical Society sticker to new members. It is a quality sticker that is weather resistant. Any current member who would like a sticker may receive one for $5.00.
---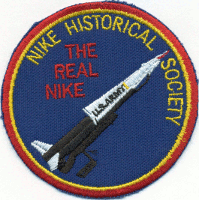 Sew on shoulder patch- our version of gym shoes
Price $10.00
---
Let them know what we were packin'
Sticker price: $7.00
---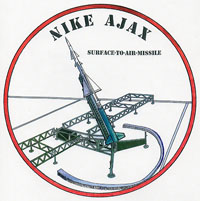 Ajax: The First Nike Anti-Aircraft Missile
This 4 inch diameter sticker is adhesive backed and adheres to smooth, clean surfaces such as glass.
Sticker Price: $5.00
---
"Can You Picture This?"
How many times have you tried to picture something from your youth? Sometimes a picture forms when you smell a familiar smell or hear a familiar tune on the radio. What brings back the memory? Don't you sometimes just wish you had those pictures always at the ready whenever you want to see them in your minds eye? I know most of us wish we could, especially those of us that served in the Army Air Defense Command. Now you can get something to show your friends and family. Al Kellogg, a Nike Hercules VET who served at C Battery, 2nd of the 51st Arty, San Rafael, California is offering two prints of his pen and ink work. These prints are the beginning of a series of prints depicting the Nike story. The first of the series depicts a Nike Hercules Launching Area, with the IFC in the background. The second in this series is a wonderful assemblage of an IFC. These 8.5" by 11" pen and inks would be great for your wall or desk. Get your memory back as soon as you can. As you know, if you can remember, we were not allowed to take pictures or make drawings of our sites when we were there. You can have your very own NOW. These wonderful pen and inks are popular, so get yours now.
You can purchase a signed unframed copy of this print for only $25.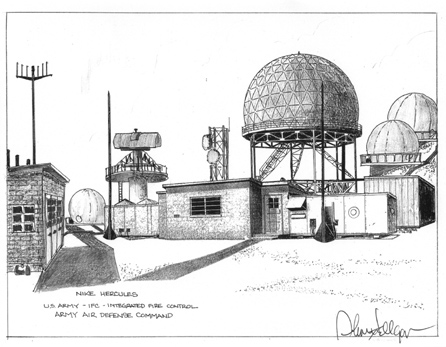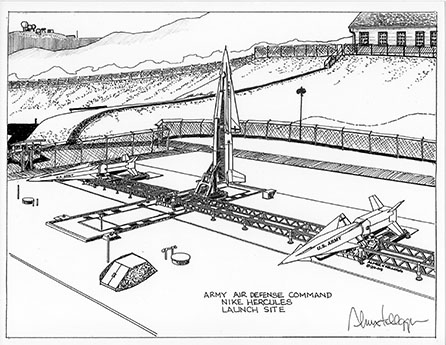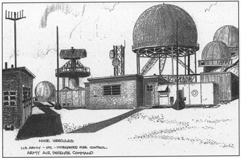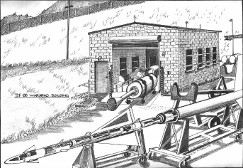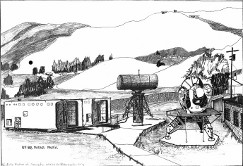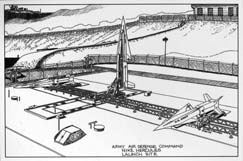 How to Make Purchases
Paying for your selection: The Nike Missile Store is staffed by volunteers. Because of the small number of customers we have, we are able to treat each customer as a valued individual. You can mail your payment to us, or you can use your credit card or PayPal to make your payment. Either way, please be sure we know what you are paying for. If you are joining as a new member or renewing a membership, please be sure we have your name, address, and email address. If you are buying an item, please be sure we know what you are buying, the quantity you want, and your shipping address and contact information such as mail and email addresses and phone number.

The Nike Historical Society is an elite group. First and foremost, we are in this to promote appreciation of the Nike Missile System and those who made it work. We who mind the store are trying to keep this simple for ourselves and everyone else.
Payment method
How to do it
Do this
Mail your payment
Do not use the "Add to Cart" or "View Cart" buttons. Mail your name, address, phone, e-mail address, items and quantities and a check or money order for payment to:

Mail to:
Nike Historical Society
P.O. Box 602
Alameda, CA 94501-8602
USA
Using the PayPal buttons and buttons will take you to a secure web page where you will be able to use PayPal or the credit cards shown. Only PayPal, not the Nike Historical Society, will see your credit card information.
Click the button to add items you are purchasing to the shopping cart. When you are ready to checkout, click any button.