Initial deployment was with the W-7 warhead in two variants; X1 and X2 with yields of 2 - 40 Kt. The W-7 was soon to be replaced with the W-31.
W31 deployed in 3 yields:2kt (M-22), 20kt. (M-97), and 40kt (M-23).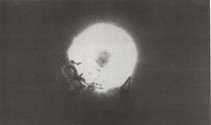 10 KT air burst with a Hercules
W31 was a boosted fission weapon
Boosting
The simplest way to utilize fusion is to put a mixture of deuterium and tritium inside the hollow core of an implosion style plutonium pit (which usually requires an external neutron generator mounted outside of it rather than the initiator in the core as in the earliest weapons). When the imploding fission chain reaction brings the fusion fuel to a sufficient pressure, a deuterium-tritium fusion reaction occurs and releases a large number of energetic neutrons into the surrounding fissile material. This increases the rate of burn of the fissile material and so more is consumed before the pit disintegrates. The efficiency (and therefore yield) of a pure fission bomb can be doubled (from about 20% to about 40% in an efficient design) through the use of a fusion boosted core, with very little increase in the size and weight of the device. The amount of energy released through fusion is only around 1% of the energy from fission, so the fusion chiefly increases the fission efficiency by providing a burst of additional neutrons.
Boosting is typically done with a D/T mixture in gas form which is pumped into the core during the arming sequence from an exterior reservoir. Tritium has a short half life (12.3 years), is very expensive and is very chemically reactive with uranium and plutonium. Having the tritium reservoir outside of the bomb allows easy replenishment and removal of waste Helium-3 without having to take the bomb core apart. (Theoretically, there are ways a solid hydride or a D/T liquid could be used instead, but the use of gas is almost universal.)
Fusion boosting provides two strategic benefits. The first is that it obviously allows weapons to be made much smaller, lighter, and use less fissile material for a given yield, making them cheaper to build and deliver. The second benefit is that it can be used to render weapons immune to radiation interference (RI). It was discovered in the mid-1950s that plutonium pits would be particularly susceptible to partial pre-detonation if exposed to the intense radiation of a nearby nuclear explosion (electronics might also be damaged, but this was a separate issue). RI was a particular problem before effective early warning radar systems because a first strike attack might make retaliatory weapons useless. Boosting can reduce the amount of plutonium needed in a weapon to below the quantity which would be vulnerable to this effect.
While this technique, sometimes known as "gas boosting," uses fusion — the reaction associated with the so-called "hydrogen bomb" — it is still seen as simply boosting a "fission" bomb. In fact, fusion boosting is very common and used in most modern weapons, including the fission primaries in most thermonuclear weapons.