NIKE AJAX MIM-3 MIM-3A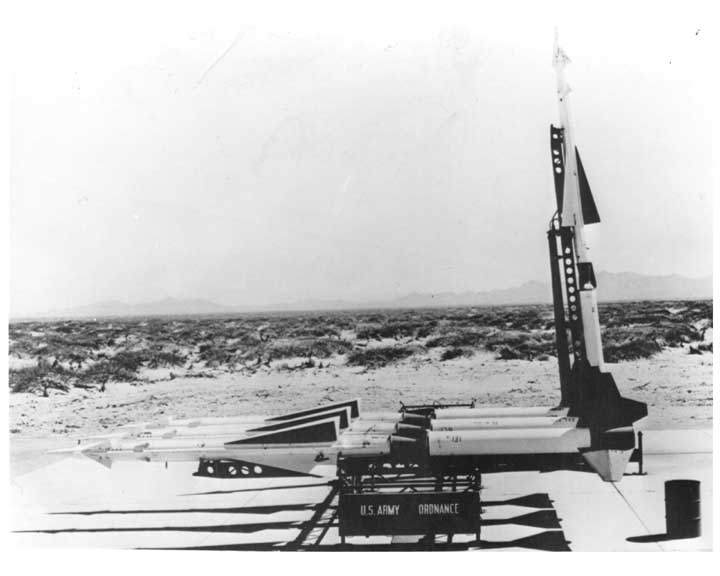 The first deployment of Nike-Ajax was in Maryland during March 1954. Nearly 200 additional sites were constructed in strategic areas of the United States. This deployment lasted 4 years. The last Nike-Ajax site was deactivated in 1963.
Technical Specifications
Overall length: 34 ft. 10 in. with booster. Missile only 21 ft.
Diameter: 12 inches
Wingspan: 4 ft., 6 in.
Overall weight: 2455 pounds. Missile only 1000 pounds.
Fuel:
Missile sustainer motor: JP4 aviation fuel and; hypergolic starter fluid 1.) Aniline/furfuryl alcohol. 2.) Dimethyl-hydrazine. 3.) Red fuming nitric acid. Red fuming nitric acid was the last starter fluid used.
Booster: Solid propellant
Range: 25 to 30 miles
Speed: Mach 2.3 (1679 mph)
Altitude limit: 70,000 feet
Guidance: Command guidance from ground emplacement
Warhead: High-explosive fragmentation. Three separate warheads located in the nose, mid-section, and aft section.
The missile was manufactured by Douglas Aircraft in California. The booster section was manufacture by the Hercules Powder Company, Radford Arsenal Virginia. The missile sustainer motor was manufactured by Bell Aircraft in Buffalo New York. The guidance system was manufactured by Western Electric.